CENTERING PRAYER
Members of the Society of St Columba use the Centering Prayer approach to contemplative prayer and meditation developed by Fr. William Meninger, Fr. Basil Pennington, and Abbot Thomas Keating. It is recommended that members do 20-30 minutes of meditation twice a day if possible (or at least once a day). While often seen as a practice in Eastern Religions, contemplative prayer and meditation have a rich tradition in Christianity reaching back to its beginnings. This tradition has been passed on to us through the Greek and Desert Fathers, Renaissance writers such as St Theresa of Avilla, St John of the Cross, and the anonymous author of The Cloud of Unknowing to modern authors such as Thomas Merton and Thomas Keating.

Centering Prayer is a gentle method of silent prayer / meditation that prepares us to experience God's presence within us. This method of prayer is both a relationship with the Divine and a discipline to foster that relationship.
To download a PDF brochure on Centering Prayer Meditation click here.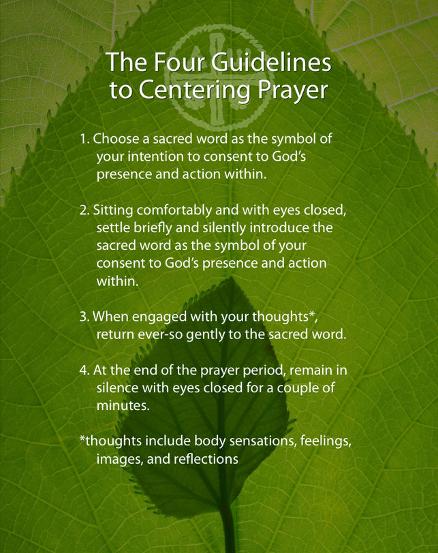 ELECTRONIC ARTICLES
CONTEMPLATIVE CHRISTIANITY & MEDITATION